Mot's 8-Ball Pool
This is Mot's 8-Ball Pool, a little pool simulation inspired by 3D pool on the C64 and Amiga. Shoot a round of pool against a friend, or one of the 7 different AI characters.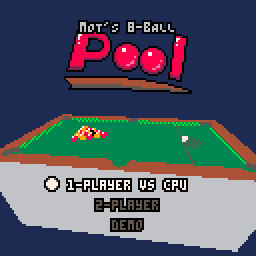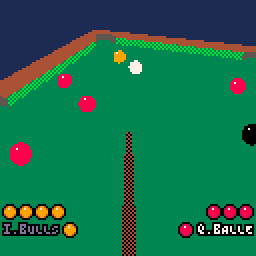 UI
The UI at the bottom of the screen shows how each player is progressing. The player's name flashes when it is their turn. The color they must sink is displayed next to their name, and the balls already sunk are displayed above. A white ball indicates they have a free ball.

When player fouls, the reason for the foul is displayed in a scrolling message along the bottom of the screen.

Rules
I'll assume you know the basic rules of 8-ball pool, so I'll just describe how the rules have been implemented. The game uses a simplified set of rules:
The game ends when the black ball is sunk.
If you sink it (legally) after sinking all your colored balls, you win. Otherwise you forfeit and your opponent wins.
The first ball sunk becomes that player's color.
A legal shot involves hitting a ball of your color first, and not sinking the wrong color, white ball or black ball (except when you're supposed to).
A free ball is awarded to the other player after a "foul" (non-legal shot). A free ball means you get a free second shot even if you don't sink a ball - as long as your shot was legal.
Hope you enjoy it. If you're curious, you can see the development progress in this Twitter thread.